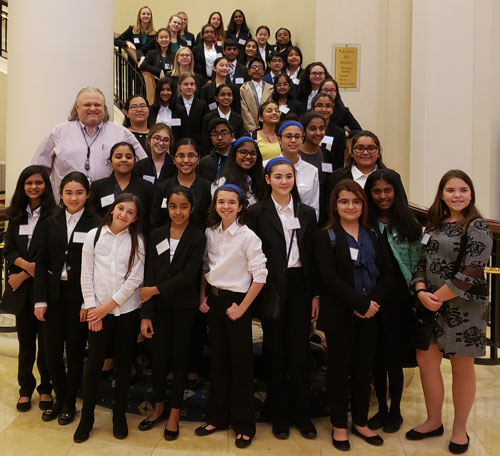 On Wednesday, February 27th, the Cab Calloway Middle School BPA Chapter achieved great success at the State Leadership Conference by placing 19 students nationally with 2 team and 2 individual first place winners.
Julia C., Harpreet K., Pragya S., Sanjana N. placed 1st in Digital Game Design Team Event
Harika C., Sarah K., Ana L., Chandanasri S. placed 1st in Website Design Team Event
Marissa J., Emily L., Giada M., Delanie M. placed 2nd in Presentation Management Team Event
Emily L. and Sara Z. placed 2nd and 3rd in Graphic Design Promotion
Tiffany S. placed 3rd in Entrepreneurship Exploration
Meghan V. placed 3rd in Spreadsheet Applications
Jeremiah R. placed 1st in Business Math and 2nd in Computer Literacy Concepts
Genevieve B. placed 1st in Business Communication Skills
Michelle M. and Dhriti T. placed 2nd and 4th in Business Fundamentals
These students now have the opportunity to attend the National Leadership Conference in Anaheim, Califonia from April 30th to May 5th.
We are very proud of all students who participated in the conference, please give congratulations to our winners when you see them.
The Cab Calloway BPA Team is coached by Advisor Mr. Sverrir Georgsson.